Services for those of us that need to know the weather.
Detailed snowfall forecasts including start times, end times, and total amounts (daily email when snow is in the forecast).

Interpretation of 7 and 14 day forecasts which include the likihood and timing of large storms (daily email when snow is in the forecast).

Winter services provided whenever snow or freezing rain is in the forecast; not limited to any particular months.

Hourly snow accumulation updates during snow storms.

Freezing rain and snowfall reports available on a seasonal, monthly or daily basis.

Available in most major cities across Canada. All forecasts and measurements are performed at the nearest major airport.

Ontario

Ottawa, Toronto, Trenton, Hamilton, Wiarton, Sudbury, Sault St. Marie, Kapuskasing, Geraldton, Kenora


Montréal, Calgary, Edmonton, Halifax, St. John's, Vancouver, Charlottetown.
For more information contact Rolf Campbell: RolfsWeather@gmail.com
Pricing:
Early bird discount: Save $50 when you sign up before the end of September.

Referral bonus: For every new customer that mentions you during their sign-up, you will get $100 off your next year's price**
Plan

Price

Included Services

Standard

$200*

Detailed, daily snow forecasts

Long range forecast interpretation

Hourly snow accumulations

Seasonal snowfall and freezing rain reports
*$200/winter for first winter. $300/winter for each additional winter.
**Discounts can be combined. If your price dips below $0 because of discounts, the remaining discounts will be carried over to your next year's service contract. Discounts always apply to your next contract. No money will be refunded due to a referral occurring after you've started your contract; that discount will be carried over to your next year's contract.
Sample Reports
Ottawa Snow Forecast issued October 21st, 2020
Oct 25 -- Oct 27
Rain mixed with snow starts Sunday night and ends Tuesday morning..afternoon.
❄
Total Snowfall: 4cm..5cm (with a small chance of up to 7cm, or as little as 2cm). Some may melt due to temperatures near or above freezing.
🌢🌢🌢
Total Rain: 11mm..22mm (with a small chance of up to 25mm, or as little as 9mm).
Ottawa Freezing rain report for Winter 2017/2018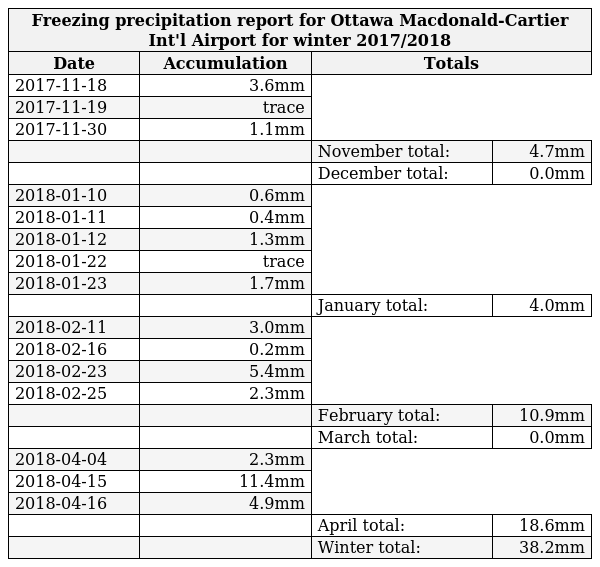 Ottawa Snowfall Report for Winter 2017/2018 (older reports)


"Plowing the Ardmore station parking lot" by Douglas Muth is licenced under CC BY-SA 2.0. My derived works is licenced under the same licence.